Real Estate Investor Friendly Agent-Charlotte, NC Area
It's all about the deal…and the house comes with it!
Why  I considered myself an Investor-Friendly Real Estate Agent?
Well,  I know it requires time to find deals…
and I know we need to act quickly to make offers…

Robert Zuniga
(c) 704-237-0354
(f) 704-626-3180
Now, since I am actively involved in Real Estate Investing also, I am constantly looking for deals both listed and unlisted…
I know a sense of urgency is needed to look at a house or houses, write contracts, and do things as quickly as needed to get property under contract for you when the properties are listed…
…offers offers offers … nothing happens unless you make offers…
oh…and did I mention that I am incredibly tech savvy
….especially with the mls system and setting up property searches that fit your criteria for your daily review
The bottom line is….
I understand the "why" of your search criteria
I understand the urgency of a "short notice" to "chase down a deal"
I am willing to target your area for both listed and unlisted deals…
I am extremely tech savvy….
oh … and yes …. and I am hungry …
I want to be a member of your success team for multiple deals….
So, do you know what your priorities are …
that when you're looking for the best deal
-Are you looking for cash flow – a buy and hold?
-Are you looking to buy low and resell quickly?
-Are you looking to renovate or rehab and sell the property retail?
You just need to identify your goals….and we go from there…
I understand that you're looking for a property that's under market value
…and depending on your goals…that's what I target on the MLS….

Robert Zuniga
(c) 704-237-0354
(f) 704-626-3180
video: https://youtu.be/5X30T6BC_M8
blog: http://charlottencrealestatedeals.com/
Charlotte, Concord, Huntersville, Cornelius, Davidson, Lake Norman, NC
Robert Zuniga
Real Estate Agent, Broker, Realtor®
NCREC License 285110
Robert Direct Phone Lines
(c)  704-237-0354
(f)  704-626-3180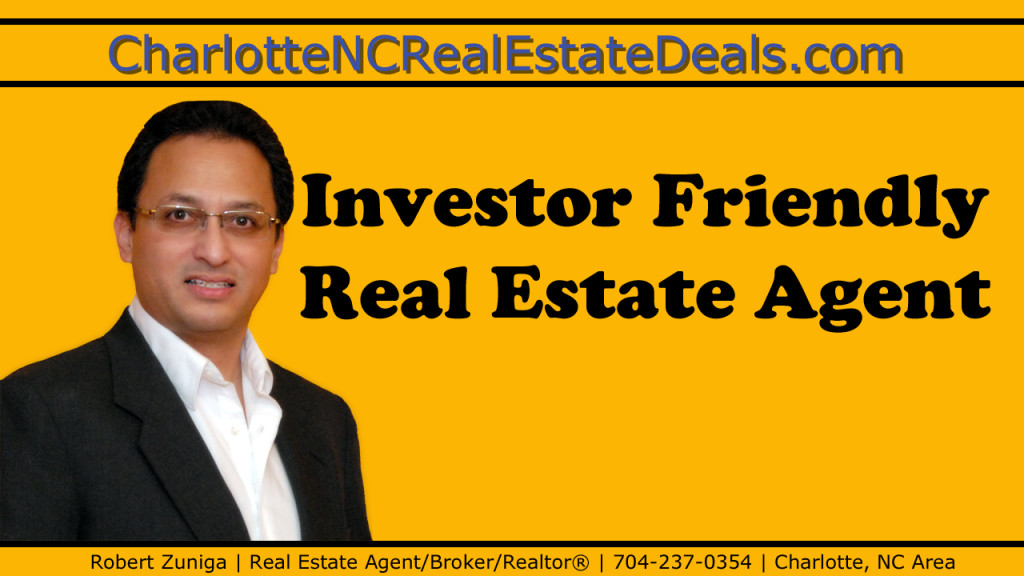 The Virtual Realty Group
15105-D John J. Delaney Dr.,
Suite 135
Charlotte, NC 28277
ATTN: The North Carolina Real Estate Commission requires that all real estate agents review with all prospective buyers and sellers who they represent in the buying and selling process. This is called Agency Relationship. By law all Real Estate Agents/Brokers are required to provide each consumer with the Working With Real Estate Agents Brochure. Please click on this link for this information:
http://charlottencrealestatedeals.com/nc-working-with-real-estate-agents/
Homes for Sale, We Buy Houses,
House listings, We Sell Houses,
Realtors, Agents. Brokers,
Real Estate Agents,
Charlotte Real Estate Investor,
Robert Zuniga-Life/Health Insurance Producer NPN 16724548
Authorized Infinite Banking Practitioner
http://ILoveFamilyBanking.com
© 2015 All Rights Reserved http://RobertZuniga.com