Real Estate Investing-Becoming Your Own Banker Charlotte, NC
Charlotte Real Estate Journal by Robert Zuniga
Robert Zuniga is an Investor-Real Estate Agent in the Charlotte Area.
In addition, Robert is also an Infinite Banking Practitioner and a licensed Life Insurance Agent that uses Dividend Paying Whole Life Insurance to manage financing cash flow for his family and business…
Imagine…You're the Banker…
you have complete access to all of your cash…
you have total control of setting your loan terms and rates…infinite-banking-concept
no credit checks…
no income verification…
you decide on what you want to invest in (no administrators involved)..
total liquidity….
grow money tax-free…
no limits to contribution….
no withdrawal penalties…
tax-free retirement cash stream
no speculation involved…
..and more
It's possible….but you've got to learn how to think differently….
Think like a Banker…Act Like a Banker
the best way to find out how is to give me call

An Investor-Friendly Real Estate Agent…
Robert Zuniga
(c) 704-237-0354
(f) 704-626-3180
video: https://youtu.be/3LvJyXOL0Rc
blog: http://ILoveFamilyBanking.com/
Charlotte, Concord, Huntersville, Cornelius, Davidson, Lake Norman, NC
Robert Zuniga
Real Estate Agent, Broker, Realtor®
NCREC License 285110
Robert Direct Phone Lines
(c)  704-237-0354
(f)  704-626-3180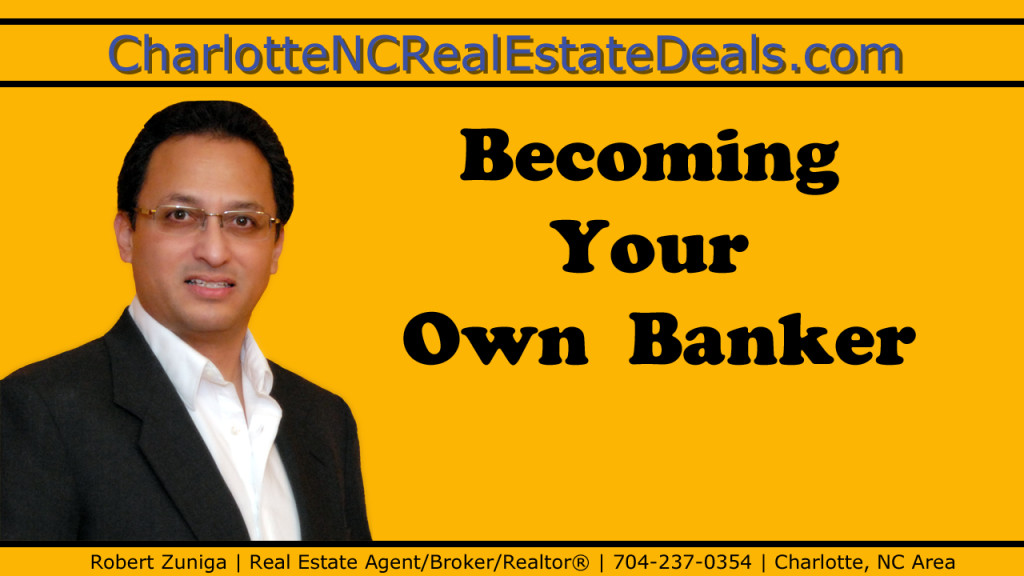 The Virtual Realty Group
15105-D John J. Delaney Dr.,
Suite 135
Charlotte, NC 28277
ATTN: The North Carolina Real Estate Commission requires that all real estate agents review with all prospective buyers and sellers who they represent in the buying and selling process. This is called Agency Relationship. By law all Real Estate Agents/Brokers are required to provide each consumer with the Working With Real Estate Agents Brochure. Please click on this link for this information:
http://charlottencrealestatedeals.com/nc-working-with-real-estate-agents/
Homes for Sale, We Buy Houses,
House listings, We Sell Houses,
Realtors, Agents. Brokers,
Real Estate Agents,
Charlotte Real Estate Investor,
Robert Zuniga-Life/Health Insurance Producer NPN 16724548
Authorized Infinite Banking Practitioner
http://ILoveFamilyBanking.com
© 2015 All Rights Reserved http://RobertZuniga.com