For many people…most actually…the only time they think about real estate is when they're buying a house or selling a house.
When the time arrives and you are looking to sell….all the right conditions may not be available to you…especially if your buyer is a retail buyer…
Well…we can help…today…just give us a call because this is where we excel…
Any house, any location, any condition, any financial situation…etc..etc…
Press Play…

Every Friday … Get Your Questions Answered

Who are we?
The weekly program will always have at least one North Carolina Real Estate Agent/Broker/REALTOR available to answer the questions for the week.
=> Charlotte NC Real Estate | Agent | Broker | Realtor Contacts <=
Great! … I Need Answers…How Do I Submit my Questions?
email questions to
"MyQuestion" "at" "CharlotteNCRealEstateDeals.com"
or ask in the chat box during the session…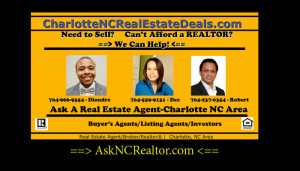 (c) 2016 Worldwide Rights Reserved http://RobertZuniga.com